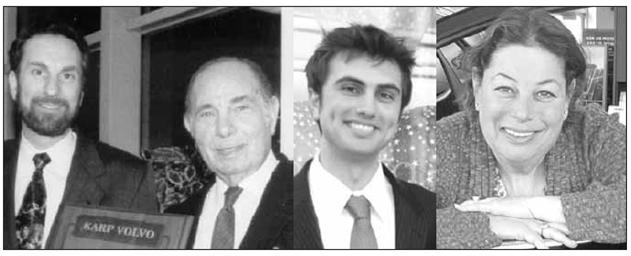 David, Irving, Daniel and Ellen Karp
Karp Auto is still going strong after 59 years. The voyage started in 1957, when Irving H. Karp opened his Karp Volvo showroom on Merrick Road in Rockville Centre, and continues today - with Irving's son, David, running the Karp Buick-Saab-Volvo-Kia dealership on Sunrise Highway. Irving Karp opened the first Volvo dealership on Long Island's south shore, with the vision of launching a vibrant family business. Now the Karp Auto Group, headed by David, with his sister Ellen heading the customer relations department and son Daniel as vice president, looks forward to many more decades of providing first-class vehicles to its customers, while maintaining its involvement in local civic, educational, arts, and recreation activities.
The family remains committed to Irving's mission of providing the best and safest cars on the market while also working diligently to "give back" to the village they love. With Irving Karp's legacy firmly entrenched within the NYC Car dealership, the Saab and Buick brands were added in 1995 and the name was changed to Karp Automotive Group. Continuing its evolution, the Kia line was added in 2010. Karp Auto - one of the most respected businesses on Long Island - has demonstrated over its many decades that you can succeed in business by treating customers and employees as part of your extended family. By building on that philosophy, Karp Auto - known as "The Auto Authority" - has established itself as a "different" type of automobile dealer, as its loyal customers will attest.