New York Kia Optima | NY Car Dealer
Your family is one of the most important parts of your life and you want to provide them with the best. The average parent is concerned with the comfort and safety of their family and the same could be said about their choice in cars. This is where the 2015 New York Kia Optima comes in.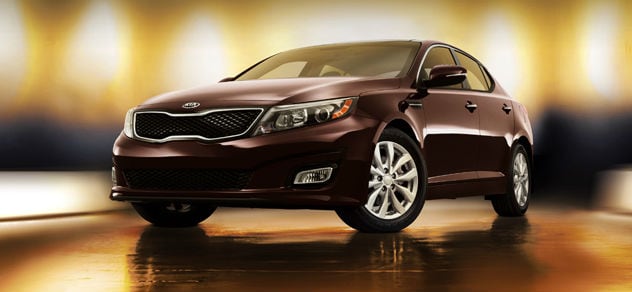 The 2015 Kia Optima now comes in five different trims and we here at Karp Kia are proud to carry the EX Sedan. This Kia sports a roomy 102.2 cubic feet of interior space and 15 cubic feet of cargo space for your family and all of their individual belongings. With the Optima, you'll never have to worry about your children complaining about personal space as the sedan boasts over 54 inches of rear hip room, 34 inches of leg room, and 55 inches of shoulder room.
The interior of the Optima is swathed in two easy-to-clean fine leather options that are perfect for any spills or messes that may come your way. Also included in the front and the rear are pockets and cup holders. As for tech specs, this Kia comes standard with cruise control, interior air filtration, dual zone climate control, satellite radio, auxiliary port, USB connection, six speakers, and a cooled storage compartment, handy for juice boxes.
Now that you're comfortable and your family is entertained for however long your ride may be, rest assured that your family will be safe. The Kia Optima comes with over 20 different safety features that include a tire repair kit, front, side and rear airbags, engine immobilizer, stability control, child seat anchors, traction control, child safety locks, and emergency brake assist. All of these are meant to assist the Kia and its 2.4L 4-cycle 6-speed automatic engine in keeping you safe while it powers you down the New York highway getting 34 mpg and 23 mpg in the city.
So what are you waiting for? Bring the family down to our NY Kia dealer and check out the new 2015 Kia Optima today. Our dealership has a large selection of new and Long Beach used Kia vehicles available now!